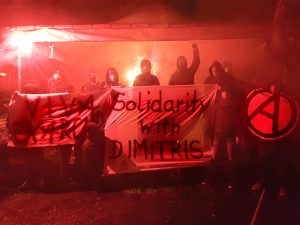 Rettet das Leben unseres Genossen Dimitris Koufontinas, welcher sich nun schon seit 60 Tagen in einem Hungerstreik befindet, um seine Verlegung in einen Knast nahe dem Wohnort seiner Familie zu erzwingen.
Unter fadenscheinigen bürokratischen Vorwänden wird ihm dieses Recht von der reaktionären griechischen ND-Regierung vorenthalten.
An Dimitris soll ein langsames, tödliches Exempel statuiert werden. Ein seit Wochen andauernder und von der deutschen Medienöffentlichkeit totgeschwiegener solidarischer Massenprotest in vielen griechischen Städten trägt unsere Wut auf die Straßen, begleitet von permanenter, massiver Gewalt der griechischen Polizei-Schergen, welche jegliches Aufbegehren schon im Keim ersticken möchte.
Unser Soli-Foto gilt unseren kämpfenden Freunden in Griechenland und dem weltweiten Widerstand gegen jede staatliche Barbarei!
Freiheit fuer Dimitris Koufontinas! Freiheit fuer alle Gefangenen!
english
Save the life of our comrade Dimitris Koufontinas, which has now been in a hunger strike for 60 days to force its laying into a jail near the place of residence of his family.
Under thread appearance bureaucratic preamble, this right will be due to the reactionary Greek ND government.
Dimitris is said to be a slow, deadly example.
For some weeks there are mass protests at many Greek cities in solidarity with Dimitris. The protesters show their solidarity and carry our anger to the streets, but not in german media. The demonstrations are accompanied by permanent, massive violence of the Greek police henchmen, which wishes to suffocate any rebellion already in the germ.
We made this photo in solidarity to our struggling friends in Greece and the global resistance to any state barbarism!
Freedom for Dimitris Koufontinas! Freedom for all prisoners!